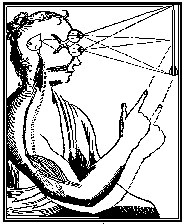 "The Seat of the Soul"
(Rene' Descartes 1596-1650)
The human pineal was a target of anatomical and physiological study even in the "pre-Cartesian superstition" era. It was a milestone that Descartes presented his idea of the human pineal as the seat of the soul, though it was not scientifically valid. The modern pineal research followed thereafter.
---
Welcome to Dr. Hasegawa's Home Page
---
Pathology, study of the cause of disease and the changes in structure and function produced in any cell, organ, or part of the body by disease. Pathologist, in modern terms, is physician (medical doctor, M.D.) with special hard training in examining body tissues (BIOPSIES, surgically resected organs, and AUTOPSY) and cells (including sputum, blood, urine, other aspirated cells, etc., i.e., CYTOLOGY) for visible and microscopic changes indicative of human disease, and renders pathological diagnoses that advise a course of medical action, or confirm the validity of the treatment. Diagnostic techniques include laboratory tests, macroscopic and microscopic examination, electron microscopy, and examination on a molecular level.
---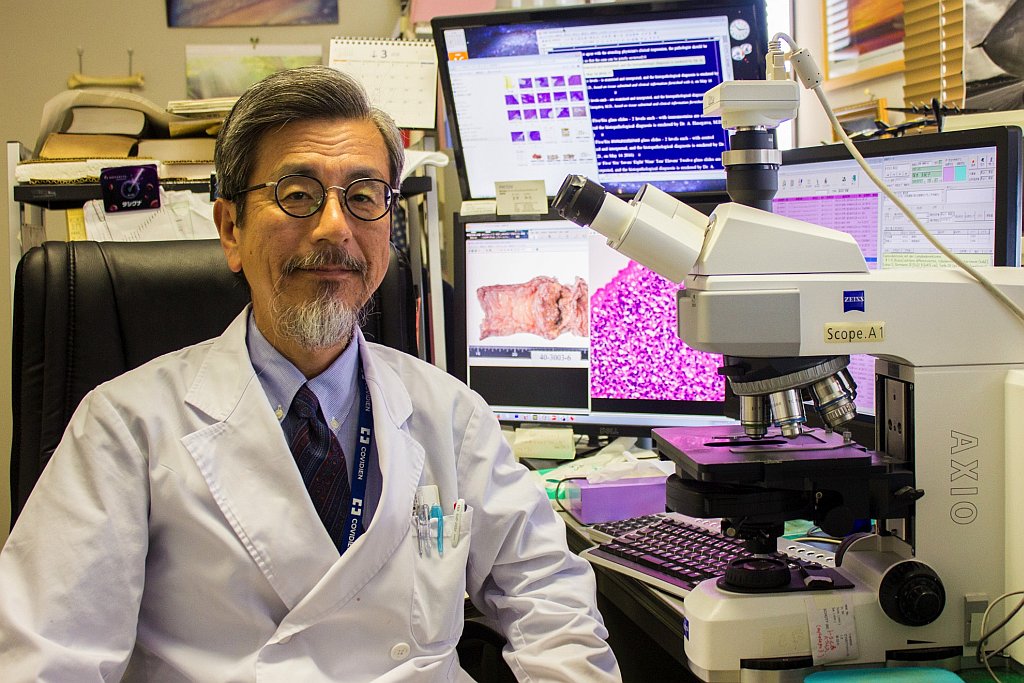 (At the pathology diagnostic cockpit of Odawara Municipal Hospital in 2016, followed by age-limit retirement at age 65 in March 2017)



[CONTENTS]

Welcome to my home page, which is constructed and maintained using my personal resources, IQ, medical qualification and off-duty time. The purposes of my page are mainly to communicate with foreign colleagues of pathologists and related medical professionals in order to build trust and mutual understanding on grassroots level, and to promote international compatibility of our pathologic diagnoses. This site is not supported by official grant from the Japanese government, nor is using taxpayers' money of our municipality. In this sense, this is one of my experimental social activities on voluntary basis. Views and opinions expressed here are entirely personal (AH/ah)


(Crick for English description)
This site is licensed under a Creative Commons License.
(Crick for Japanese description)

Curriculum Vitae

Publication in English

Presentation in Japanese

Some Notes on the Practice of Pathology in Japan

Brief Memorandum for Lecture to the Case Workers of the Odawara Municipality; Introduction to Pathology of the Tumors (In Japanese, 18KB Text Only, Public Domain)

Photoalbum (Medical Science)

Some Case Records of the Monthly Clinicopathological Conference of the Odawara Municipal Hospital with the Odawara Medical Society (Text Only)

Photoalbum (Friendship/Diplomacy)

My Easygoing Book Reviews

My Favorite Poem

My Favorite Movie Video

Photoalbum (Personal)

Photoalbum (Family) (including "Saipan Travelogue 1997", "Guam Travelogue 1999", our family cars

, "Hawaii-Maui Tour 2001", "Hong Kong Tour 2002", "Delhi-India Travelogue 2004", "Saipan-Tinian Travelogue 2008", "Taipei-Taiwan Travelogue 2009", "Cebu-Philipine Travelogue 2010")

My Casual Audio Setting

My scale model hobby (Plastic aircraft models)

Monitoring of µRoentgen Background Radiation in Japan

, related to aftermath of 2011 Tohoku Earthquake

Homeopathy: Champion of Pseudoscience

Solar-Electric Power Generation at Home - Experimental

Photoalbum (My Birkin 7 - A Pedigree of British Lotus 7 - and Mount Fuji: "Dr. Strangelove for Lotus 7 and Mount Fuji" for car enthusiast)

Do you like Japanesque? ("Air Show" stuff in analog images included)

Visiting a grave in Odawara City of our fallen hero: Lt. Col. Shigeo Uehara, KIA on February 16 1945 at age 28 (in Japanese)
---

[ALSO LINKED TO THE WEB SITES BY ASSOCIATED PATHOLOGISTS AND OTHER MEDICAL LABORATORY PROFESSIONALS]

Ed Uthman, MD, a pathologist in Houston, Texas, USA, an opinion leader in cyberpathology space. An excellent, text book-style web site for pathologists, med techs, screenwriters, and patients, containing a lot of downloadable resources.
Pat Letendre, a medical laboratory science instructor in Alberta, Canada, and listowner of MEDLAB-L, the largest mailing list for laboratory medicine in the North America.
Robert S. Richmond, MD, a.k.a. Samurai Pathologist in the cyberpathology space, works entirely as a free lance pathologist based in east Tennessee, not employed by any agency.
Bulent Celasun, MD, a pathologist in Military Medical Academy in Ankara, Turkey, maintaining a web page for Ankara Pathology Society.
If you would like your pathology home page (preferably with personal taste) added, please e-mail me free DrHASEGAWA@aol.com. You are welcome to link your pathology page to mine. Thank you for your cooperation.
---

[My Favorite Poem]


The Man of Life Upright by Thomas Campion
---

[My Favorite Movie Video]


The Dam Busters (1955, 124 min) starring by Avro Lancaster and De Havilland Mosquito
633 Squadron (1963, 95 min) starring by De Havilland Mosquito bomber, fighter, ground attack and reconnaissance aircraft and volunteered WWII veteran air crews
Le Ciel sur la tete (1964) starring by aircraft carrier Clemenceau, Dassault Etendard IV M, Breguet Alize
The Blue Max (1966, 156 min) starring by Phalz D.III, Focker D.VII and Dr.I, S.E.5
Battle of Britain (1969, 132 min) starring by Supermarine Spitfire, Hawker Hurricane, Messerschmitt Bf-109, Heinkel He111
A Bridge Too Far (1977, 176 min) starring by Douglas C-47 Dakota and Airspeed Horsa
Flight of the Intruder (1990, 115 min) starring by Grumman A-6 Intruder
Top Gun (1986, 109 min) starring by Grumman F-14 Tomcat
Flight of the Intruder (1990, 115 min) starring by Grumman A-6 Intruder
Piece of Cake (1988, TV series) starring by Supermarine Spitfire Mk I and II (in fact Mk. IX in the movie)
Memphis Belle (1990, 107 min) starring by Boeing B-17 F and G Flying Fortress
Les Chevaliers du Ciel (Sky Fighters in English, 2005, 100 min) starring by Dassault Mirage 2000, Dassault/Dornier Alphajet et Transall transport plane
---

[My Audiophile Disposition]



My Current Audio Setting

(crick here)
Loudspeakers: TANNOY Stirling/HE (main system, original user since March 2000), ScanDyna (Dynaco) A-25 (subsystem, original user since 1974, lately delegated to my son Takao), Sansui S-707 (subsystem, discarded April 2010), Victor SX-3 II (Serial# 14042606/14044171, procured April 25 2010: Second system in Hayama Serial# 0615384/seal peeled off, procured May 11 2010)
Speaker Cable: HITACHI LC-OFC OSX-102P (Main system for a long time), Monitor das Hi-Fi Kabel Cobra 2.5S (subsystem, July 2004, replaced by DENON AK-2000), DENON AK-2000 (procured on June 27 2010, replaced by SPK-2000), Ortofon SPK-3100 Silver (procured on July 11 2010, used in KT-88 vacuum amplifier system)
Amplifier: SANSUI AU-D607X (main system, original user since 1984, retired in Nov 2005 after 21 years of active duty as a main amp, now active in Hayama as a second system), PIONEER C-73 (Serial#WL1004467, preamplifier, subsystem, May 2001) + Triode VP-Mini88 (KT-88 vacuum tube amplifier, subsystem), SANSUI AU-α607 (serial# 617082630, procured November 2005, under validation, o.k. no problem commissioned on Nov 20 2005 on main system)
RCA Audio Pin Cable: Silver-coated OFC cable (handcrafted by me)
Stereo Noise Reduction Unit: dbx 122 Type II (Serial#1524, purchased from Austin, Texas, July 2000, kept in reserve), dbx 222 Type II (Serial#J2223019, procured October 2000, kept in reserve), dbx 222 Type II (Serial#E2221449, A recruit from GA, USA, November 2000, kept in reserve), dbx 224 Type II (Serial#32244656, after being used for main system since February 2001, kept for reserve in March 1 2019; Serial#J2242258, main system, March 23, 2001; Serial#J2242955; Serial#J4240236, after used in subsystem now kept in reserve, April 2002; Serial#DM-32244597, February 2005; Serial#LL-J2242554, November 2005, kept in reserve, Serial#LM-J2248934, December 2018, after kept in reserve put into main system on March 1 2019, Serial#LL-J2242327, March 2, 2019, kept in reserve), dbx 224s Type II (Serial# DN-J4241267, August 2002)
Program Route Selector: dbx 009 (Serial#J0-3691222, main system, procured February 2002), dbx 007 (Serial#0070197, procured March 4 2005, in reserve)
Subharmonic synthesizer: dbx 120 (Serial#DN-J1200178, November 2005, in reserve)
Open Reel-to-Reel Tape Deck Flotilla: TEAC A-2300 (Serial#6989, alive and well at age over 30! I am an original user since 1971), TEAC A-2340R (Serial#10567, 4 track, 4 channel, a recruit from GA, USA, July 2000, overhauled at TEAC service), TEAC A-6300MkII (Serial#69009, procured September 2000, overhauled at TEAC service), TEAC A-2300SR (Serial#2948, procured October 2000), AKAI GX-600D (Serial#V-90501-00758, 15 and 7.5 ips, procured November 2000; ??Serial#V-90103-00067, procured in January 2001??), AKAI GX-260D (Serial#80907-02860, procured December 2000, capacitor 35v470μF burst in summer of 2018, replaced but burst again, quite regrettably discarded in October 2018), AKAI GX-630D PRO (Serial#20405-00309, 15 ips, 2-track, 2 channel, procured April 4 2001), TEAC/TASCAM 40-4 (Serial#7045, 4 track, 4 channel, procured March 2002, diagnosed at TEAC service and discarded March 2004), TEAC A-2300 (Serial#8644, in a portable case CS-400, April 2002), TEAC A-3300S-2T (Serial#30441, 15/7.5 ips, 2-track, 2 channel, May 2002, in malfunction), TEAC A-6100MkII (Serial#69830, 15/7.5 ips, 2 track, 2 channel, + 4 channel PB, procured June 22 2005 and on very active duty) (Bold type indicating Active in playing, though suspended for recording, still in October 2018)
Recording Tape: Scotch 150, maxell PM50-7B, SONY PLN-370B (7-inch hub), Scotch 206, AMPEX 456, BASF PEM469, BASF LP35LH, maxell PM50-10B, Sony PLN-740B, TDK T-1110 (10-inch hub)
Combined Cassette Tape Recordier and CD Player: TEAC AD-850 (Serial #1990214, original user since November 15 2019)
FM antenna: MASPRO FM3 (3 elements) plus 75 ohm cable
FM tuner: TRIO KT-5500 (analog vintage tuner, Serial#312344, subsystem, procured October 2000, discarded February 2004), KENWOOD KT-1010F (digital synthesizer tuner, Serial#6ZK11404, main system, original user since June 1987, not tuned to stereophonic), HITACHI Lo-D FT-320 (subsystem, July 2002), Marantz ST7001 (Serial#MZ000551000135, original user new since April 2006, malfunctioned and retreated in July 2011), VICTOR FX-S90 (Serial#15002650, procured in June 2002, reentered operational in July 2011 temporarily), DENON TU-1500AE (Serial#1063301971, original user since July 2011)
Cassette Deck: A&D GX-Z7100 (original user since January 1989, discarded March 2004)
CD Player: KENWOOD DP-900 (main system, original user, retired 2004), DP-990 (June 2002, retired), SONY CDP-315 (subsystem, retired March 2004), CEC CD3300BK (main system, original user new since March 2004, passed away and decomissioned in September 2018, serial# 0AB3Y03484), Denon DCD-755RE (main system, original user since September 10 2018, serial# AEB12180156650)
CD Recorder: TASCAM CD-RW700 (Serial #0320647, original user new since January 2003)
Record Player: VICTOR JL-B33H (Belt-drive, Original user since circa 1973, active in Hayama), DENON DP-790 (Direct-drive, Serial#217013 , procured June 2010), MICRO SEIKI DQ-45 (Direct-drive, Serial#09070893, procured June 2010)
Phonograph cartridge: Ortofon VMS-20E (Original user since circa 30 years ago), Shure M44G x 2 (MM for stereo LP, tracking force 0.75-1.5 grams, purchased new June 2010), Orthofon OM D25M (MM for monaural LP, tracking force 2.5 grams, purchased new June 2010)
Headshell: Orthofon SH-4 (purchased new June 2010)
Audio Rack: Wakatsuki NW-8030 (60 Kg, original user)



DISCLAIMER: I neither have finantial relationship with, nor am a shareholder of, the cited companies.



Favorite Conductors of classic music: Karl Böhm (recorded by me to 7 inch hub magnetic tapes, Scotch #150, at 19 cm/second from the sources presented by RIAS-Berlin and Austrian Broadcasting Corporation (ORF) through NHK-FM during early '70s), Günter Wand, Otto Klemperer, Carl Schuricht, Christian Thielemann, Eugen Jochum, Hans Schmidt-Isserstedt, Rudolf Kempe, Bernard Haitink,,,,, and, of course, Wolfgang Sawallisch.
Favorite Jazz Players: Vittoria Gennari and his sidemen (Alto Sax: "The Sound" by Red Records 123308-2, "Melodies" ditto 123317-2) ,,, Stan Getz and Kenny Barron ("people time" by the Verve Music Group/Emarcy UCCU-5313/4)

Links:


General; The Preservation of Recorded Sound Materials (stanford.edu site)

Reel-To-Reel Tape Deck; A Recipe for Tape Restoration by Eddie Ciletti, Inventory and Workstation for vintage R2R decks by Rolf from Texas




(Crick for English description)
This site is licensed under a Creative Commons License.
(Crick for Japanese description)
---
Originally translocated from AOL hometown (web service) after hit over 22,000 visitors (since reset on 98/01/10) with its abrupt official closing down their service in October 2008
---
Back to previous Home Page at AOL (Till October 31 2008)
Back to previous Home Page at geocities.jp web host (Till March 31 2019)
Back to New Home Page (Translocated Sakura server)
---
Some Copyright Reserved (C) 1997-2024 Akio Hasegawa, MD
Please send your comments, suggestions or requests to akio-h@fg-khn.jp