**** Mouse/Rat Pinealocytes ****
---
For more detail, please refer to the published papers.
1. Mori, W., Kurumado, K., and Hasegawa, A.: Morphological study of the circadian cycle of the pineal gland of the rat. [In] Integrative control function of the brain, Kodansha and Elsevier, vol 1, pp. 343-344, 1978.
2. Hasegawa, A., Kurumado, K., Mori, W.: Synaptic ribbon of the rat pinealocytes - numerical changes under physiological and ophthalmectomized conditions (in Japanese). Tr.Soc.Pathol.Jpn [suppl]70:95-102, 1981.
3. Hasegawa, A.: Age-related changes of mouse pinealocytes - electron microscopy and morphometry (in Japanese). Adv in Neurol Sci (Shinkei Kenkyuu no Shinpo), 28; 505-516, 1984.
4. Hasegawa, A., Izumiyama, N., Ohtsubo, K., and Mori, W.: The increase of the nuclear lobulation of the pinealocytes in aging mice; Electron-microscopic karyometric study. Jpn J Aerospace and Environ Med 24; 23-28, 1987.

---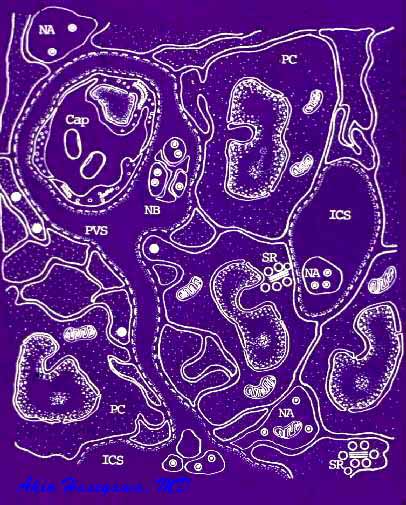 Schematic drawing of the pineal gland of rodent species
[PC; pineal parenchymal cell, ICS; intercellular space, PVS; perivascular space, Cap; capillary, NB; nerve bundle, SR; synaptic ribbon, NA; nor-adrenaline vesicles]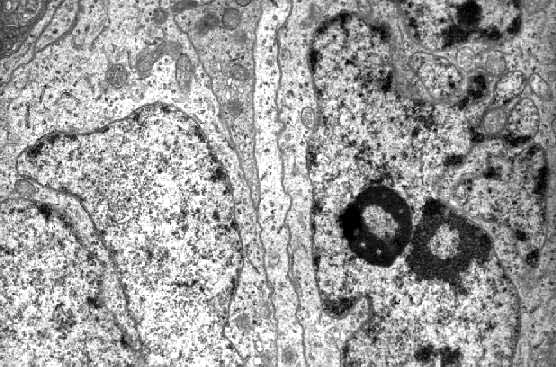 Electron micrograph of pinealocytes of 8-month-old mouse (original x6,000)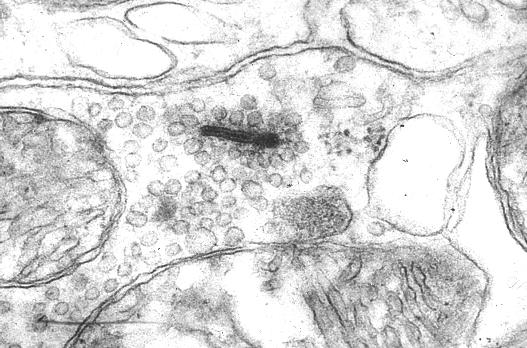 Electron microscopic feature of a synaptic ribbon of a rat pinealocyte in the vicinity of the plasma membrane (original x38,000)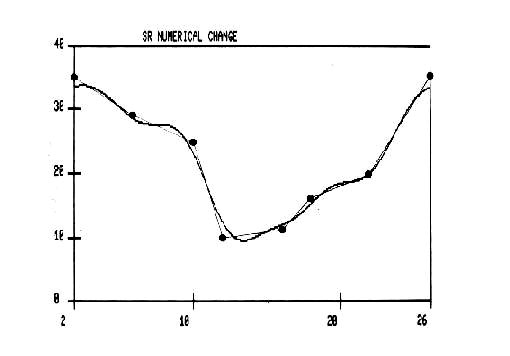 Circadian rhythm of the number of SR
Circadian rhythm of the number of synaptic ribbons of rat pinealocytes per unit area of the electron micrograph (The approximate curve was rendered by Fourier transformation using a first generaton 8-bit PC, Motorola 6809, with 64KB RAM!, and Epson 9-pin dot printer - Unpublished rendering)
[Ref. Heilborn J (Ed): Science and Engineering Programs, Apple II(R) Edition.
OSBORNE/McGraw-Hill, 1981]
Back to previous Home Page at AOL (Till October 31 2008)
Back to previous Home Page at geocities.jp web host (Till March 31 2019)
Back to New Home Page (Translocated Sakura server)
-----------
Copyright 2000, Akio Hasegawa & the Japanese Society of Pathology
version 1.20 2008/10/06
-----------
Please send your comments to DrHASEGAWA@aol.com